The Plonker's Photo Gallery (Brockenhurst)
Listed below are pictures from The Plonkers® 2007 season.
Many of these pictures have been taken by fan's or visitors to these gigs.
If you would like to add a photo to our gallery,
please contact: g...@theplonkers.com
Click your mouse on any image to see a full size version.
---
The following pictures are from The Geordies (aka Steve and Heidi)
Steve writes:
Hi there from the rainy North East of England !
Hope your all fit and well, we are looking forward to seeing you all again at the Brockenhurst carnival on the 29th August 2011.
We have had such a good time over the last few years seeing you play there we will be heading down again with a number of cans of cider in tow !
I have attached a few pictures of last year that we took with yourselves.
Please remember to bookmark your song book with "I am a cider drinker" and "My old mans a dustman" !!!
Take Care,
The Geordies (aka Steve and Heidi)
Golly and Gary at Brockenhurst carnival 2010
Unknown fan, Gary and Heidi
Steve, Golly and Gary
The Plonkers, Gary, Golly and Janet

---
The Brockenhurst Carnival 2007
These pictures ware taken by 'Brian and Erica Martin'
on 27th, August, 2007 at The Brockenhurst Carnival

Brian and Erica are the crazy snappers who took lots of photos at the Brockenhurst Fete.
Brian and Erica are caravaners from Norton le Moors in North Staffordshire. Brian has been caravanning in the Forest for 48 years - he knows exactly, as his daughter was 6 weeks old then and is now 48! Brian and Erica visit the New Forest every year, and love the area. We hope they are now life long Plonker fan's, Erica said, "Loved your moosic, and love your website updated yesterday, very impressive!"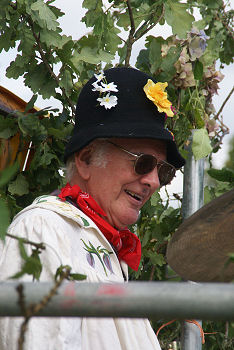 Click your mouse on any image to see a full size version.
---
For more details:
Email: g...@theplonkers.com
Copyright © 2016 (The Plonkers® Agricultural Orchestra). All rights reserved
---
---