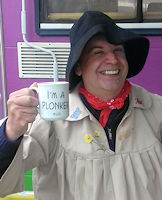 Julian Bishop is our additional moosician from Somerset.
Whenever he can, (when he's not filming or treading cider apples); he plays keyboard, bass guitar, or mandolin.
Julian often joins the band at The Great Dorset Steam Fair and many other west country gigs. Julian also joined the band at Sark a few years ago, where the locals thought his old Joanna sounded gert good and lushish rustic, well it did once he got all the seaweed out of the upright.
Golly and the boys 'asked Julian to join 'em at a surprise birthday party near Langport, one May.
It was such a surprise they forgot to tell him where it tiz…The directions were quiet easy to follow, go down the road and bit listen out for the cock calling, turn left, head up and bit and swing round and come past a gate. Not the 2nd turning, but look out for the field where that horse used to be in, straight on follow your nose past the smelly farm and when you see the bright lights of the birthday cake, then you'll be there or some where near by.
Take a look at Julian's website, the directions are............ www.videotrax.net/